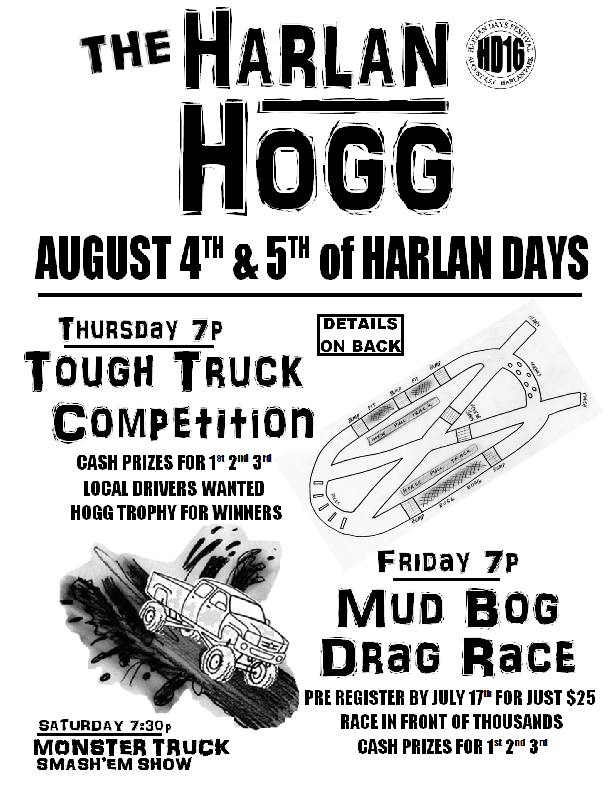 Harlan Days Raffle
Find out about the official annual Harlan Days Raffle.
Learn More
We Invite You to the Harlan Community Park for Our 70th Annual Town Fair Located In Harlan Indiana
August 3rd, 4th, & 5th 2017
Harlan Days is an annual festival held at the Harlan Community Park, in the town of Harlan Indiana. We are just a short 6 minute drive from I-469 on Fort Wayne Indiana's Northeast side and we invite you to join us for some good ol' fashion fair fun. Harlan Days is the primary fund raising activity for the Harlan Community Park Association. All profits benefit the park and its programs.
Our fair takes place the first weekend in August every year and is orchestrated by a tireless group of volunteers.
So you think you can run a Mini-excavator huh? Well, regardless if you think you know how or want to know how, this weekend will be your chance at Harlan Days. It's just $5 per attempt, with prizes going to the best time each night. Of course you don't have to compete for time, you could just pay to have bragging rights that you've run heavy equipment.
read more
Registration forms
Find registration and sign-up forms here
Click Here
And here are the official 2016 Harlan Days Raffle Winners!
Thanks to many area business sponsors, there will be 570 "Harlan Days 2016" Tshirts available to win at the festival, this year! The free Tshirts come in sizes from Youth Small to Adult 3XL & there are about 36 different shirt/ink color combinations!
This could be YOUR YEAR TO WIN!!
Come hungry! We will have great food as always, and at family friendly prices too. In addition to our many other food vendors we will have the following dedicated menu in our main food tent:
The 2016 Harlan Days Honorary Citizen is Pat Connor. One of the reasons Pat was chosen to be this year's Honorary Citizen is because of the many, many years she has worked to help Harlan Days and Harlan Park become what it is today.