The Official Annual Harlan Days Raffle
Each year we sell raffle tickets to help raise funds for the community. Below is a listing of this year's prizes. Tickets may be purchased from select committee members, some of our local businesses, like Springfield Enterprises, the Harlan Lions Club, and during the event at the Headquarters tent.
Prizes for the 2017 Harlan Days Raffle:

Grand prize is a 2017 Chevy Spark
2nd – $500 Tire Gift Certificate
3rd – Ruger 10/22, Walnut Mannlicher Stock
4th – 40″ Sharp 1080p, LED, HDTV
5th – $195 HVAC Gift Certificate to Korte
6th – Cherry Hill Golf Package for 4
7th – Stihl Gas Trimmer
8th – $100 Gift Certificate to Harlan Café
9th – $100 Gift Certificate to Grabill Hardware
10th – 3-Piece Diamond Jewelry Set
11th – $100 Gift Certificate to A Lily's Dew Drop

Tickets are still only $10.00 each! This years drawing will be held at 10:30 pm on Saturday, August 5th.
*Need not be present to win. Must be 18 to buy a ticket.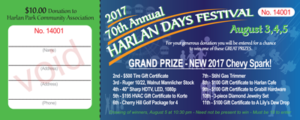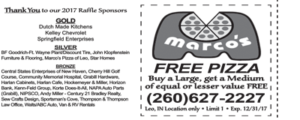 Gold Sponsors: Dutch Made Kitchens, Kelly Chevrolet, and Springfield Enterprises
Silver Sponsors: BF Goodrich Ft. Wayne Plant/Discount Tire, John Klopfenstein Furniture & Flooring, Marco's Pizza of Leo, Star Homes
Bronze Sponsors: Central States Enterprises of New Haven,  Cherry Hill Golf Course, Community Memorial Hospital, Grabill Hardware, Harlan Cabinets, Harlan Cafe, Hockemeyer & Miller, Horizon Bank, Ken-Feld Group, Korte Does-It-All, NAPA Auto Parts (Grabill), Andy Miller – Realtor for Century 21 Bradley Realty, Thompson & Thompson Law Office, Walts/ABC Auto, Van & RV Rentals.
And with every ticket purchased you get a Marco's pizza coupon for "Buy a Large, get a Medium of equal or lesser value Free." Tickets may be purchased at the Harlan Days Headquarters Tent during the fair and are available for purchase now at Springfield Enterprises on SR 37 in Harlan. This is a great way to support Harlan Days and the Harlan Community Park!