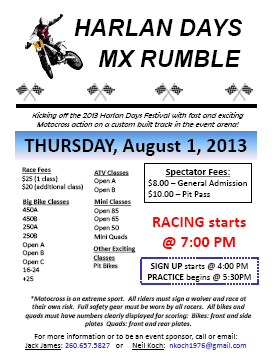 Kicking off the 2013 Harlan Days Festival with fast and exciting Motocross action on a custom built track in the event arena! Join us on Thursday August 1st for a very popular, and family oriented, event. Classes of all ages. General admission is just $8 or upgrade to a pit pass for just $2 more ($10/pass).
Racing starts at 7pm.
Sign up starts at 4pm with practice at 5:30pm.
For more information or to be an event sponsor, call or email:
Jack James: 260.657.5827 or Neil Koch: nkoch1976@gmail.com
Download the full brochure here: Harlan Days MXRumble 2013