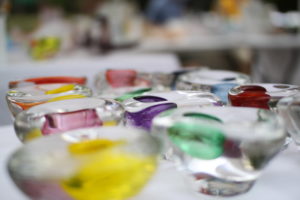 Do you have arts, crafts, or other products to sell? Want to get exposure for your business where you can interact, demonstrate and have a casual conversation with people interested? Then we invite you to come display your art, crafts, and merchant's wares at our 70th annual Harlan Days festival, held in a tent at the Harlan Community Park.
The festival dates and hours are Thursday, August 3 (5pm-10pm), Friday, August 4 (5pm-10pm), and Saturday, August 5 (10am-10pm).
The price for booth space inside the tent is $45 for all three days (same as last year). There are also limited outdoors spaces, without power, for $25. (See full updated announcement for details.)
Please download the full announcement for more details or contact Vicki Schaber with additional questions and if you wish to rent additional space.
Please submit all applications on or before Friday, July 7th, 2017: Mail-in Application or PDF Form to Email.