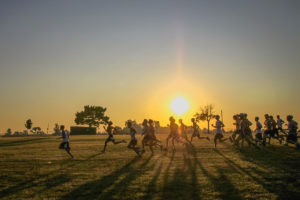 It's time to register for the 5th annual Harlan Hustle 5k Fun Run. You can run, walk, or skip, even with strollers, but sorry, dogs and bikes are not allowed.
Registration opens on Saturday, August 5, 2016 at 7:00 a.m., with the run starting at 7:30. The start/finish line will be at the Harlan Park.
Entry fee is just $20. T-shirts available to those registered prior to July 15th.
Awards:
Gift Certificates from East of Chicago in Leo, Sailers and Dari DeLite in Hicksville.
Male and Female 15 and under
Male and Female 16 to 20
Male and Female 21 to 30
Male and Female 31 to 40
Male and Female 41 +
There will be a pancake breakfast available from 6:30 – 10:30, followed by the parade.
Winners will be escorted in the parade.
Download the Harlan-Hustle-full-registration form. Contact joyfulgeiger@gmail.com with any questions.