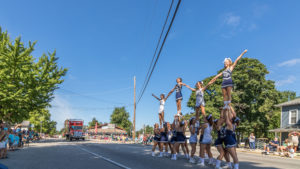 It's time to register for the 2017 Harlan Days Grand Parade. We are looking for bands, marching units, antique cars, businesses or commercial enterprises, floats of all types, color guard or cheer units, animals, families or groups, children, acts, antique tractors or other parade worthy attractions.
Download the appropriate form below, give us your info and then either snail mail or email it back to us to complete your registration. But don't put it off, entry deadline is Thursday, August 3rd. Registrations after that will incur a $10 late fee.
Come be part of the historic 70th Annual Harlan Days Grand Parade.
>> Forms: Word, PDF, form fillable PDF
Send completed forms to 11436 Buckboard Ln. Harlan, IN 46743 or via email to harlandays.parade@yahoo.com. Questions may be sent via the same email or call Nikki at 260-494-0880.
**Please arrive by 9:00 am on parade day at the North drive of the Christian Community Center of Harlan (formally Harlan Elementary) , off Spencerville Rd., to sign in, register, and line-up.**