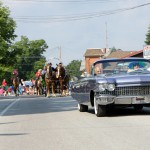 Register your band, marching unit, antique car, business or commercial enterprise, float, color guard or cheer unit, animal, family or group, child, antique tractor or other parade worthy attraction in the 2016 Harlan Day's Grand Parade.
Just download one of the forms below, fill it out and either mail or email it back to us to register. But don't dilly dally, entry deadline is Wednesday, August 3rd. Registrations after that will incur a $20 late fee.
Forms: Word, PDF, form fillable PDF.
Send completed forms to P.O. Box 74 Harlan, IN 46743 or via email to harlandays.parade@yahoo.com. Questions may be sent via the same email or call Nikki at 260-494-0880.
**Please arrive by 9:00 am on parade day at the North drive of Harlan Elementary School (off Spencerville Rd.) to sign in, register, and line-up.**