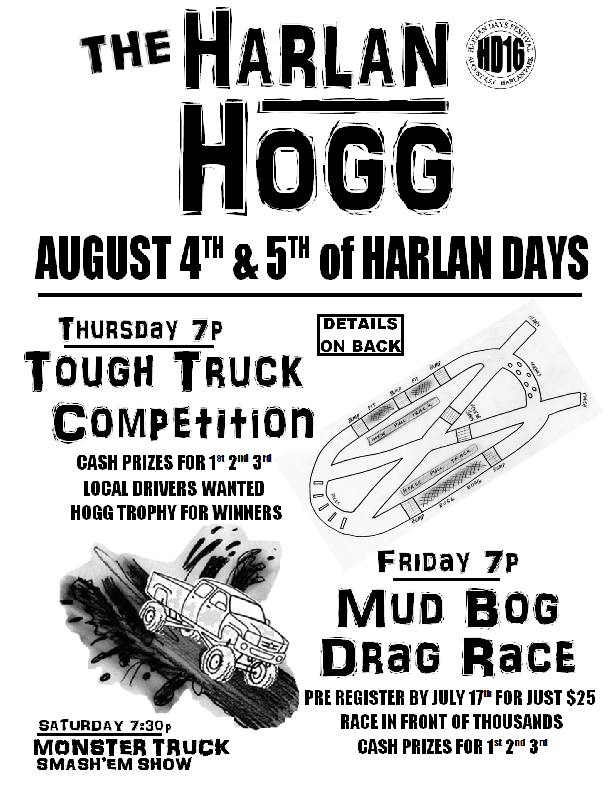 Harlan Days Raffle
Find out about the official annual Harlan Days Raffle.
Learn More
We Invite You to the Harlan Community Park for Our 70th Annual Town Fair Located In Harlan Indiana
August 3rd, 4th, & 5th 2017
Harlan Days is an annual festival held at the Harlan Community Park, in the town of Harlan Indiana. We are just a short 6 minute drive from I-469 on Fort Wayne Indiana's Northeast side and we invite you to join us for some good ol' fashion fair fun. Harlan Days is the primary fund raising activity for the Harlan Community Park Association. All profits benefit the park and its programs.
Our fair takes place the first weekend in August every year and is orchestrated by a tireless group of volunteers.
Another new event for 2016! 4×4 Off Road Racing located in the Festival Arena. Come out August 4th and watch as local drivers battle for the cash and crown! The arena off-road course will test drivers skills as they blast thru mud bogs, navigate tight turns and moguls, get sent flying high on jumps and bumps, and race to the finish. Fastest local truck wins $400 cash! Show starts at 7:00 pm and tickets just $5. Children 5 and under are... read more
Registration forms
Find registration and sign-up forms here
Click Here
Harlan Days is proud to announce that Curtis Smith will be the Grand Marshal for the year's grand parade! Curtis Smith is the Director of Community Outreach for Parkview Health.
Congratulations to the lucky 2015 Harlan Days Raffle Winners.
Bring the whole family out to Harlan Days on Thursday night to enjoy the festival, then stick around for the fireworks display set to start at 9:30pm. Let's Celebrate Freedom together.
Use the form below to register for the 2015 Harlan Days Parade. Or you can download the entry form in either Word or PDF format and bring it the day of the event. Send forms and questions to vhauser@1hallmark.com. Fill out my online form. Fill out my Wufoo form! **Please arrive by 9:00 am, on parade day, at the North drive of Harlan Elementary School (off Spencerville Rd.) to sign in, register &...