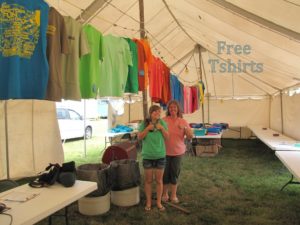 Thanks to many area business sponsors, there will be 570 "Harlan Days 2016" Tshirts available to win at the festival, this year! The free Tshirts come in sizes from Youth Small to Adult 3XL & there are about 36 different shirt/ink color combinations!
This could be YOUR YEAR TO WIN!!
HERE'S HOW TO WIN:
Go to Harlan Days on August 4,5, & 6, 2016.
Visit the Headquarter's Tent & ask for a Free Tshirt signup slip.
Legibly fill out the signup slip & return it to a HQ tent volunteer.
That's it! You're now entered for every Free Tshirt drawing for that night! Your entry stays in the bucket the whole night. So, only sign up ONCE per night. On Saturday, you may sign up once from 11:00 a.m. to 4:30pm. Names will be dumped at approximately 4:35pm & then you may sign up ONCE again for the period of 4:45pm-9:29pm.
You can win one tshirt per day! Drawings for winners are every half hour; from 6pm to 9:30pm on Thur & Fri, & from 11:30 a.m. to 9:30p.m. on Sat. Winners names are announced over the park loudspeakers- so LISTEN closely for your name. If you're one of the winners at that drawing, come to the Headquarter's tent within 45 minutes to choose your shirt: pick your favorite area business or your favorite colors!
NOTE: The winner must be present to win. Shirt will not be given to someone else sent to the tent "for" the winner. The winners at the 9pm & 9:30pm drawings will have 30 minutes to claim their shirt. Claim times & other Rules are subject to change.