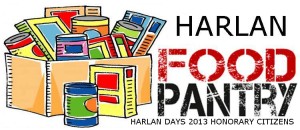 The 2013 Harlan Days Honorary Citizens are the Harlan Food Pantry volunteers: Edie Dix, Damon Greer, Elsie Love, Peggy Nelson, Jerry & Shirley Spindler, Richard & Janet Staily and Lois Wenkheimer. These volunteers assist people in the community who are in need of a little help providing food for their families. Clients are offered groceries that consist of canned fruits, vegetables, bread, cheese, meats, pasta sauce, crackers, soups, dry goods and other basic food items. Health care items like laundry detergent, dish soap and paper products are also available at the food pantry. During Easter, Thanksgiving and Christmas clients are given items to prepare a complete holiday meal for their families. Children are also given a little bag of treats on each visit to the food pantry. Clients can receive food items once per month.
The food pantry is located in a rent-free facility at the Harlan United Methodist Church and serves the Springfield and Scipio townships. The pantry is a part of the Associated Churches network and has been self-supporting for the last year. Donations are given to the food pantry by local churches, businesses, clubs & organizations, Woodlan Schools, generous individuals, and via the annual USPS 'Stamp Out Hunger National Food Drive'. Cash donations are used to purchase fresh meat, cheese, eggs, margarine, health care items, and cleaning products when in low supply. Harlan Food Pantry Coordinator, Shirley Spindler, says "God has truly blessed this food pantry with a very generous and caring community."
These Food Pantry volunteers are a valuable asset to the Harlan community, and we appreciate all the time that they have donated to this worthy cause. To show your gratitude, please bring a non-perishable food item to donate to the food pantry when you attend the Harlan Days Fair. Donations will be collected at the Headquarters, Donut and Food Tents. When you see these volunteers, be sure to thank them and wave as they pass by in the parade. Harlan is honored to have such caring citizens!