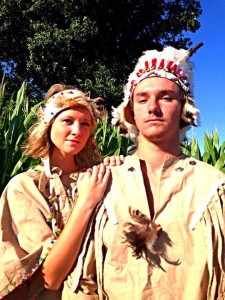 The Harlan Days parade Grand Marshals this year will be Morgan Spencer and Kadin Gerig, both students at Woodlan High School.
Showing her school spirit as the Lady Warrior, Morgan Spencer will be one of the enthusiastic leaders of the parade Saturday at Harlan Days. Morgan, going into her senior year at Woodlan High School, has been involved in theatre, volleyball, and track. In addition, she has also been a member of the Service Club and National Honor Society. After high school, Morgan plans to pursue a career in acting. Currently, she is involved with theatre in Fort Wayne. She was in the Civic Theatre's production of Cinderella in May. She is currently working on Fox and the Fairway which will be performed at the First Presbyterian Church in Fort Wayne in September.
Kadin Gerig will also be a leader of the parade as the Woodlan Warrior. Kadin is a senior at Woodlan High School. He has played basketball for 3 years and been a member of the drumline for the Spirit of Woodlan Marching Band for 3 years also. Kadin is active in Campus Life and volunteers for the Woolan Jr. High Campus Life Ministry. He is also active in his church youth group. In his spare time, he enjoys hanging out with his friends, playing basketball at Harlan Park and skateboarding. He plans to attend college to pursue a career in youth ministry or missions.
Be sure to come out to see them both in the Harlan Days Parade on Saturday at 10:00AM!