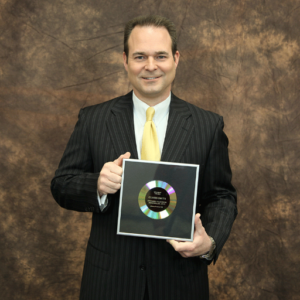 Harlan Days is proud to announce that Curtis Smith will be the Grand Marshal for the year's grand parade! Curtis Smith is the Director of Community Outreach for Parkview Health. Originally from Memphis, Tennessee, Curtis moved to Fort Wayne to join the 21Alive news team in 1995.  From 1995 to 2016, Curtis was 21Alive's Chief Meteorologist. You can follow him on Facebook at:  Curtis Smith Parkview, on Twitter at: @CurtisParkview and on Instagram at: @CurtisParkview  Now that he is at Parkview, Curtis is excited to continue his work in our community and to do it for a local organization that cares deeply for the people of our area.
Curtis and his wife Jessie have three sons; all three were born in Fort Wayne.  Curtis is one of the world's biggest Boston Celtics fans. He's an avid golfer and a Dave Matthews Band fan!  The readers of the Fort Wayne Newspapers repeatedly named Curtis "Best Local Weatherman" and "Favorite Local TV personality". The readers of Whatzup magazine also named Curtis Fort Wayne's "Favorite TV personality".
The parade will head south from the Ekklesia church (the old Harlan Elementary School) on Spencerville Road, to SR 37 East, to School Street, through the park, and concluding back at the church. Please come out to the Grand Parade on Saturday, August 6th at 10:00 AM to wave at Curtis as he leads the 2016 Harlan Days Parade!