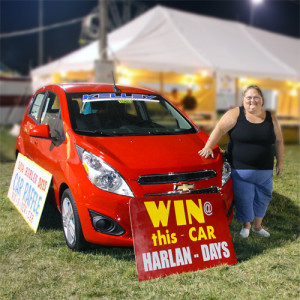 The Harlan Days Committee is happy to announce the 2014 Harlan Days Raffle winners. Again this year, over 2,500 raffle tickets were sold and we were able to give away the 2014 Chevy Spark! Congratulations to the winners:
1st: 2014 Chevy Spark – Mildred Wolfe of Grabill
2nd: Toshiba Laptop – Elmer Gramajo of Harlan
3rd: 40" LCD TV – Joann Harris of Harlan
4th: Galaxy Tablet – Jon Werling of Spencerville
5th: Cherry Hill Golf Package – Amy Brockman of Harlan
6th: Gas Lawn Trimmer – Bill Lengacher of Woodburn
7th: $100 Gift Certificate to Harlan Café – Amy Mohr of Leo
8th: $100 Gift Certificate to A Lily's Dew Drop – Stan Eicher of Woodburn
9th: Reflections Spa Package – Todd Lothamer of New Haven
10th: $50 Gift Certificate to Grabill Hardware – John Alexander of Monroeville
And we would like to thank all the prize sponsors of the 2014 Harlan Days Raffle. Without these donations the raffle would not have been such a success.
Thank you to the following: Kelley Chevrolet, DutchMade Kitchens, Springfield Enterprises, Klopfenstein Repair, John Klopfenstein Furniture & Flooring, Star Homes, Thompson & Thompson Law Office, Harlan Cabinets, Central States Enterprises of New Haven, Eicher Concrete, Cherry Hill Golf, East Allen Ag & Turf, Harlan Café, A Lily's Dew Drop Flower Shop, Reflections Salon & Boutique, and Grabill Hardware.